Description
Twin Cooling Plus® System The new H Series refrigerator uses two distinct airflows and precise temperature control to maintain optimum moisture levels in both the refrigerator and freezer. The Twin Cooling Plus® System will keep your apples fresh, prevent your ice from freezing and will not give your ice cubes the scent of the garlic bread stored in the fridge.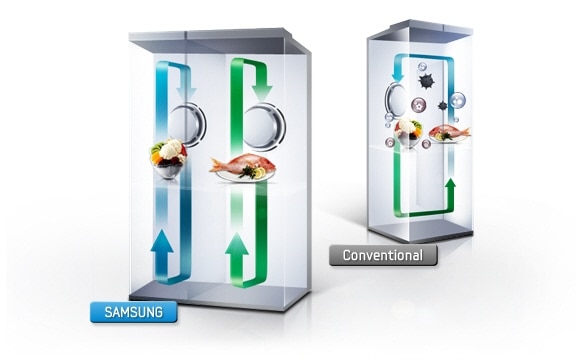 Info and tactile commands in a few clicks
Follow what's going on in your refrigerator without even opening the door. The outdoor LED display shows the interior temperatures of the two compartments of the new H series refrigerator in a nice blue light. It warns you when it is time to change the filter. Touch the screen to pour water or ice, or to put the refrigerator in Vacation mode when you are traveling.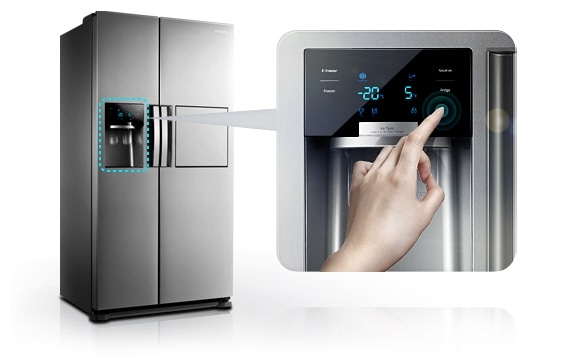 A refinement with sober looks
As you will all great cook, it is all about presentation, especially in the kitchen. The modern elegance of the new H-series refrigerator is an inspiration for sumptuous meals. A refined style, emphasized by soft lines and a polished finish, gives a sensation of luxury elegantly enhancing the decor of your kitchen. If your kitchen was not yet the most popular room on festive nights, now it will certainly be.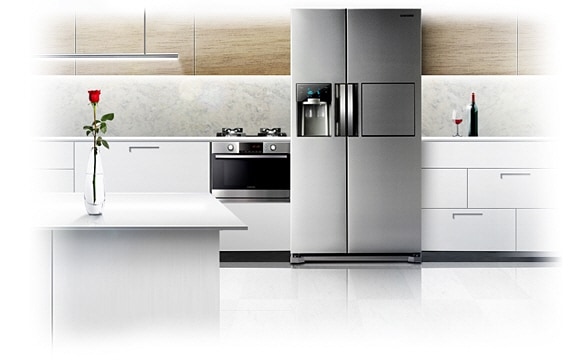 LED lighting The LED lighting of the tower is diffused from the back of the interior, rather than from the top, which gives you more space for large products. In addition, it emits less heat than conventional bulbs, thereby relieving the refrigerator in cooling products.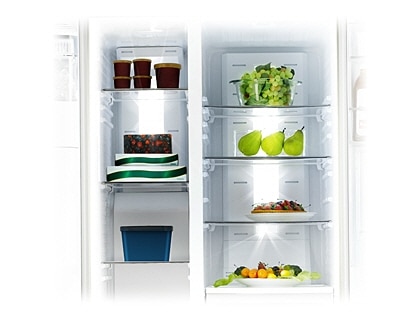 Big Box drawersLarger than the previous models, big box drawers can hold melons and lettuces, even with a few peppers and courgettes. So do not hesitate to stock up on fruits and vegetables. The flap lids preserve the freshness of the food while ensuring easy access and

Multi Flow VentilationMulti Flow ventilation works at all levels, with small blowers arranged at each level, so as to maintain a uniform temperature in each corner of the refrigerator, especially when opening the door. By simultaneously cooling each section of each compartment, Multi Flow ventilation keeps the freshness of your food longer.

Mini barSimply open the mini bar to remove a bottle of water without opening the refrigerator door or let the cold air escape. The mini bar helps to conserve energy and facilitates access to your favorite drinks. The door, which opens by simple pressing, also serves as a tray on which you prepare your drink.

SPECIFICATIONS
SIDE BY SIDE
550LTR
ENERGY SAVING
ICE MAKER
WATER DISPENSER
SILVER
DIMENSIONS (WDH) 974x776x1914mm
129kg